Manzanita Memories: Sides Finishes Eighth in Farewell Show
March 31, 2009
By: Stevie Kinser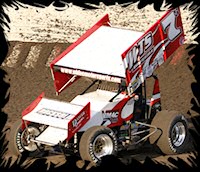 The World of Outlaws visited Manzanita Speedway for a final farewell, as the track is scheduled to close in the upcoming weeks. Jason Sides will be just one of the many drivers that will miss the Phoenix, Arizona, race track. Sides has always felt that he has ran well at Manzanita. His efforts last Saturday night were a testament to that. Jason's night start off strong in qualifying. The night was not without its trouble and a motor problem was obvious when Jason was out on the track during his heat. The team had to make a motor change after the heat, but Jason was still able to make a strong stand. He finished the night in eighth, scoring his fifth top ten of the year.
Though smoke poured out of the # 7s Wetherington Tractor Services Maxim during Jason's heat race, he did transfer and was eligible for the Dash, but missed the final spot by one car. The Sides Motorsports crew went right to work replacing the damaged motor and setting the car up the best they could in attempts to capitalize on their eleventh starting position for the main event. The large racing surface kept the 21 competitors spread out throughout most of the race. When the track laid rubber there wasn't much passing. Still, Sides made progress, finishing eighth at the conclusion of the 30-lap race.
"Manzanita is just one of those places that we run pretty well at," said Sides. "I hate to see it go. I would have thought we would have had more cars here. I know I wouldn't have wanted to miss this."
Jason was nostalgic after the A-Feature. Even with the surprisingly low car count, Sides was beyond impressed with the crowd that gathered to watch as the Outlaws said goodbye to a track that's been a cornerstone of the Outlaws schedule since its beginning.
"It was cool to see the crowd that showed up for our last Outlaws show here," Sides remarked. "When you see that many people come out to see us here for the last time, it means something. It's a cool feeling to know that they care about things like we do. "
Sides will miss Manzanita, but there are still plenty of tracks on the Outlaws schedule that he is looking forward to racing at. He is especially excited about the upcoming races in Kilgore and Baytown, Texas. Jason has a week and a half where he can finally go home and visit with his family before he saddles up for a trip to the Lone Star State.
"We haven't been to Kilgore in the past couple years, so I'm anxious to get back there," Jason stated. "Then we go right to Houston, which has been a really good track for us too. I'm pretty excited to go race that week-end in Texas."
It will be a thrill for Jason to be back at tracks that he hasn't been to in awhile, especially since they are places he has performed well at in the past. With plenty of time before the Sides Motorsports team makes their way south, Jason will be more than ready to get back in the car when the Outlaws arrive at Kilgore's Lone Star Speedway on April 10th. They will likely start driving towards Baytown after the races on Friday so that they will be charged and ready for Saturday night's show at Houston Speedway Park.
Be sure to check online at www.sidesmotorsports.com for Jason's upcoming results from Kilgore and Baytown, as well as all future results and the latest news associated with Sides Motorsports.
Sides Motorsports would also like to thank the following sponsors for their support:
Wetherington Tractor Services, Inc.
Arctic Cat Motorsports
BR Motorsports
Dancer Logistics, Inc.
Don Ott Racing Engines
Four Seasons Radiators
Joe Gibbs Driven Racing Oil
Maxim Racing Chassis
RockSolid Floors
VMAC Components
VRP Racing Shocks
Weld Racing
Winters Performance
WRT Web Designs
YAK Graphics