Sides Has Lots to Smile About After Two Successful Finishes over the Week-End
April 27, 2009
By: Stevie Kinser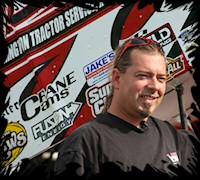 Jason Sides continued his quest along the World of Outlaws tour with a successful week-end when the Outlaws visited Riverside International Speedway, in West Memphis, AR, and Tri-State Speedway, in Haubstadt, IN, over the week-end. Jason finished just shy of a top five finish in West Memphis and came back strong the next night to run third at Haubstadt.
Friday night's event at Riverside was of particular importance for Jason, as that stop marks the closest to home that the Outlaws race. Jason had lots of family and friends attending the race and wanted to make a good showing. After wrecking during last year's race there, Jason was determined to give a better performance.
"Just to have a consistent top ten finish at West Memphis was good for us after tipping over there last year," Jason said. "That's our hometown track and we wanted to give some our hometown fans something to cheer about."
Not long after the show on Friday, Jason had to say good-bye to the crowd of friends and family and head north towards Indiana for the next night's show at Haubstadt. Jason was strong contender all night and was running second, just barely losing second to Joey Saldana on the final lap.
Jason was really happy with the track conditions and always enjoys running on smaller tracks about the size of Haubstadt. Jason views the entire week-end as a success and thinks that the team is on the right pace for the season.
"The biggest goal of our season right now is just to run consistent and just keep plugging away at each race," said Jason. "It's important for us to be consistent and to keep having good runs."
It was a successful but long week-end for the Sides Motorsports team. The overnight trip from West Memphis to Haubstadt is one of the longest overnight scheduled week-ends on the Outlaws schedule, but they made it through with great results and were still able to have some fun at the track and on the road, even some of Jason's sponsors made the long trip. Jason was glad he could make it worth it for them.
"It was a great time for some our sponsors to be out at the races with us," said Jason. We had Shawn Dancer, and Lindsey, and then Kimball Wetherington, of Wetherington Tractor Services. We had a really good weekend and enjoyed them being there to hang out with us and are glad that got to see two good races."
Jason's next race with the Outlaws will be in Brandon, SD, at Huset's Speedway next Friday. Jason is excited to run at Huset's, which is another small track, comparable to Riverside and Haubstadt, and Jason is expecting to have another solid run.
Be sure to follow up by checking Jason's results from this upcoming week-end, and keep up on the latest Sides Motorsports news, by visiting www.sidesmotorsports.com.
Sides Motorsports would also like to thank the following sponsors for their support:
Wetherington Tractor Services, Inc.
Arctic Cat Motorsports
BR Motorsports
Dancer Logistics, Inc.
Don Ott Racing Engines
Four Seasons Radiators
Joe Gibbs Driven Racing Oil
Maxim Racing Chassis
RockSolid Floors
VMAC Components
VRP Racing Shocks
Weld Racing
Winters Performance
WRT Web Designs
YAK Graphics