Sides Continues To Build Consistency and Speed as Outlaws Soar into Summer
June 10, 2009
By: Stevie Kinser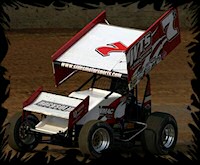 It has already been an exciting season for Jason Sides and the summer is just beginning. Now that the World of Outlaws schedule is beginning to pick up its pace, the strength and speed of the #7S Wetherington Tractor Services, Don Ott Maxim is heating up with the weather. Jason proved it again this week-end with two top-five finishes over the week-end during the World of Outlaws visit to Lawrenceburg Speedway in Lawrenceburg, IN.
Sides Motorsports had an additional reason to celebrate this week-end, as Jason's long-time mechanic, Finchy, has rejoined Sides Motorsports to aid Jason and Doug Rankin, who came onboard at the beginning of the year. Shane has been with Jason for several years, and after a strong start to this season, it was great for Jason to be able to share it with the person that has helped him build the team to this level.
"We are really excited to have Shane back with us," Jason said. "Being able to come right out and run two strong nights with him just adds to the fun."
Just as he was this week-end, Jason continues to be threat each night at the track. He has had some fumbles throughout the season, but he currently sits shy of fifth in the overall Outlaw point standings which alone speaks of the consistency they have had this season. There is no one that can deny that Sides has a lot of speed behind him. Before qualifying second on Saturday night, Sides had set quick time in three of the last four races. The team blew a motor during hot-laps on Saturday night, but even with a fresh motor and a late draw, they were still able to run a solid lap during qualifications.
"We lost a motor in hot laps the second night, but that didn't stop us," said Sides. "We got it changed and went right back out there and ran second quick. In the past we have struggled during qualifying and I really hope we have put that behind us."
Sides has yet to make it to victory lane this year, but with all the necessary components, it won't be long before Jason finds himself with a win. Right now, Jason is confident and is enjoying being a competitor night after night. He knows that they need to keep working harder to get themselves that first win, but he has no doubt that they have the ability to do so.
"I think most people can see how strong our team is right now," Jason said. "Our Don Ott motors and our new 'SKR cars' seem to really be our ticket right now."
Jason rarely misses an opportunity to thank the people that support him. He knows none of this would be possible without the sponsors, family, and friends that are backing him. He wants nothing more than to be able to thank them from victory lane, and with the way he is running now, it could be soon.
Jason jumps right back into Outlaws competition during this weekend's Boot Hill Showdown, which is hosted at Dodge City Raceway in Dodge City, KS.
Be sure to follow up on Jason's results by visiting www.sidesmotorsports.com.
Sides Motorsports would also like to thank the following sponsors for their support:
Wetherington Tractor Services, Inc.
Arctic Cat Motorsports
BR Motorsports
Dancer Logistics, Inc.
Don Ott Racing Engines
Four Seasons Radiators
Joe Gibbs Driven Racing Oil
Maxim Racing Chassis
RockSolid Floors
VMAC Components
VRP Racing Shocks
Weld Racing
Winters Performance
WRT Web Designs
YAK Graphics